Products
Grooming Equipment
Absorbine Showsheen, Showring Shine 950ml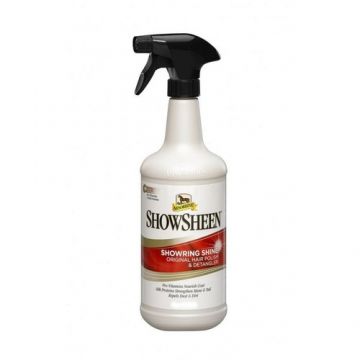 Product Code
ABS3414
Price
AU$67.95
Details
SHOWRING SHINE Original Hair Polisher & Detangler
Pro-vitamins nourish coat | Silk proteins strengthen mane & tail | Repels dust & dirt
Produces finest showring sheen on coat, mane & tail that lasts a full week.
Keeps manes & tails tangle free.
Not an oil or cream rinse.
Makes spray oils obsolete.
Not affected by water and linament baths.
Produces clean, healthy coats. •
Repels dust and dirt. •
Prevents stains - manure, grass, urine etc.
Saves hours of grooming time & helps keep the horse clean for a week.
Non toxic and safe for even the most sensitive horse.
Directions for Use: For highest sheen, shampoo with one of Absorbine's Equine shampoos and rinse animal thoroughly. Remove excess water with a sweat scraper. Apply a small amount of Showsheen to one section of the coat at a time. Work in well with the palm of the hand, & stroke hair flat. Apply to mane & tail, then comb through. Allow the coat to dry completely before additional grooming. For touch ups or for cold weather use, brush the animal thoroughly. Apply Showsheen to the coat, mane and tail while dry. Spray fine mist until the hair strands are damp. Then hand stroke in the direction of hair. Allow to dry before additional grooming. Do not use on the saddle area of the horse.
Available instore only or extra freight charges may apply
« Back to Grooming Equipment