Products
Equine Health & Treatment
Vetsense Electrolyte Paste 60ml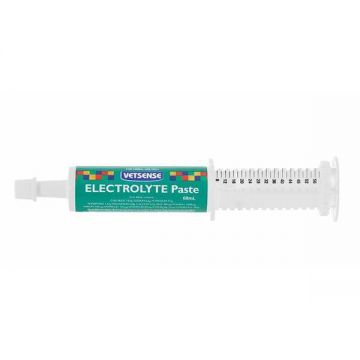 Product Code
VETV0510
Price
AU$19.95
Details
Oral Electrolyte & Vitamin paste to assist in restoring normal electrolyte balance in body tissues due to strenuous exercise and sweat loss during training, racing, hot weather conditions and as supplemental source of vitamins for horses.
Each 60mL Contains:
Chloride 14.0g
Sodium 6.6g
Potassum 4.5g
Phosphate 1.67g
Magnesium 0.8g
Calsium 0.7g
Zinc 80mg
Vitamin E 1000mg
Niacin 330mg
Vitamin B1 102mg
Vitamin B2 87mg
Vitamin B6 10mg
Vitamin B12 40ug
Useful also to administer before and after transportation, in particular during hot weather conditions.
Made with a distinct aniseed flavour for greater palatability and acceptance by the animal. This product does not elevate plasma bicarbonate levels and therefore will not contravene the rules of racing.
Recommended dose rates are for horses of 450-500kg bodyweight. Rate of use can be adjusted for lighter or heavier horses. The dose should be given orally over back of tongue.
After hard exercise: Give 30-60mL
After racing, competing or any other strenuous exercise.
Transportation: Give 30-60mL on arrival at destination. Pre-travelling dose of 30mL is recommended for horses being transported for longer than 4 hours
« Back to Equine Health & Treatment