Products
Bits
Happy Mouth Dexter Ring Racing Bit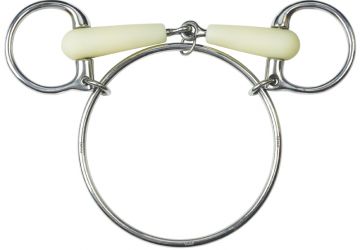 Product Code
BIT3950
Price
AU$114.95
Details
AS USED BY MIRACLES OF LIFE TO WIN THE 2YO GR1 BLUE DIAMOND STAKES!
The Happy Mouth Dexter Ring Racing Bit has been added to the approved list of bits for Racing, Trials & Track Work. To distinguish it from non-approved cheap copies, the approved bits are branded "SOYO" and have the year of manufacture on the large ring. Happy Mouth bits have a stainless steel centre core to ensure maximum safety and strength. The apple scented plastic has been engineered to provide the horse with an easily accepted flavour which is non-toxic, long lasting and safe.
"I have used Happy Mouth bits for Some years now.....Every horse under my care works and races in one...I find that horses seem to be kinder and more tractable when compared to when using traditional steel bits....Miracles of Life has never known anything else in her mouth except a Happy Mouth bit. I thoroughly believe that they do make a difference." Dan Clarken, Morphettville SA.
« Back to Bits